16 mai 2011
1
16
/

05
/

mai
/

2011
09:26
English version

After 1 month spent in Lakeland, Laura and I decided to leave. We found a lift to cairns and stayed for few days at the place of Laura's friend. A really nice aussie girl.
In Cairns, I enjoyed party and my come back into the civilisation.
After 3 awesome days I flew to Brisbane where I stayed less 24 hours. My friend Nico was in Byron Bay and I really wanted to see him again before I leave Australia. So I quickly found a lift from Brisbane to Byron Bay.
Arrived in Byron Bay, Nico picked me up and drove me at an amazing place : the Rainbow Temple, an hippie community.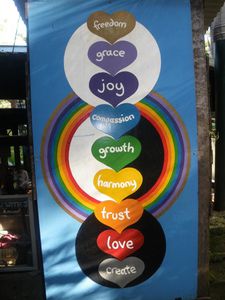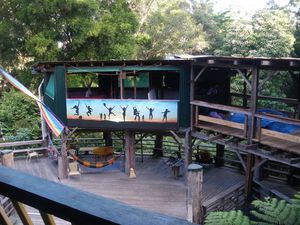 Nico and his friends had arrived there 2weeks before, at the beginning only for 2days...
So when I arrived in the hippie temple, I was quit disappointed, because on 14persons, 9 were French. I had succeeded to avoid French people for almost 2months but there I had no more choice, I had to speak French again! Yes French people between them are like German people on Fraser Island : ass holes! I find this way to speak French while there are foreign people around totally a lack of respect. So at the beginning I tried to speak English with the other French people, but they looked at me as if I was a crazy girl. So I quickly gave up!
Anyway, the Rainbow temple is situated between Byron Bay and Nimbin (the only place in Australia, where the weeds is celebrated: Mardi Grass!). It's about 30kms from Byron Bay in middle of the forest. It's just an incredible place.
How does it work?
For $25 a day (I paid that the first 2 days and after it was $20, and Nico and his friends at the end paid $10 per day) you can live in the temple, sleep, eat and smoke weeds.
Here it's alcohol free, but free weeds! Guy, the "owner", buys food everyday and it's like a big family, we cook for everyone. There is no fridge so no dairy and no meat, only vedgies, rice and pasta ; no soft drink (like lemonade or coke), only water, tea or coffee
Everybody is nice and some people are really hippies (maybe too much for me), and talk about levitation, spirit, soul...
Here everything is outside, everything is opened, no door, just a tiny curtain for the toilet (natural ones, with compost) and the shower.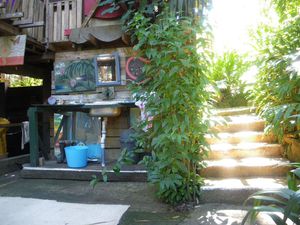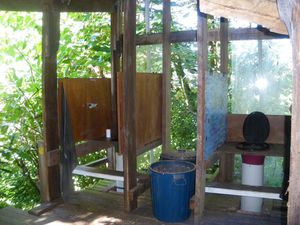 Bathroom... toilets...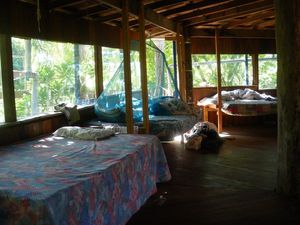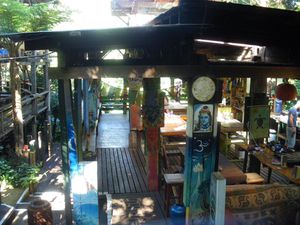 dorms... kitchen & livingroom.

I had planned to stay only 1 night and 1 day, but I admit it's very difficult to leave the Rainbow Temple. It's an so easy life : just talk, smoke, play guitar and cook during all day long.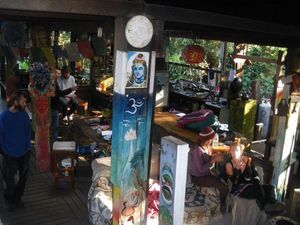 It was awesome! It's a really good and interesting experience. But 3 days, it's enough, because finally there is nothing to do except do nothing!