2 mai 2011
1
02
/

05
/

mai
/

2011
06:14
English version
Tuesday March 22, after 3 months spent in Melbourne, Ben and I took off to Brisbane finally. Our arrival in Brisbane was under a bursting sun, and the heat was with go.
Good-bye boots, leggings and hoodie; Hello flip-flops and bikinis!
Brisbane was only a stage in our trip, since as of the following day we must take the coach to Hervey Bay.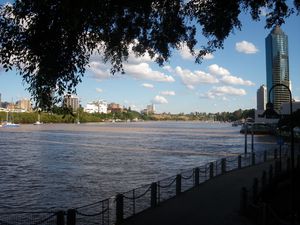 Brisbane is a city where I am sure it makes good things in life. Huge brand new buildings are mixed with old monuments; but, when I say "old", that means not older than 1842, date where the city was built, therefore less 200 years old). I almost would have wanted there to stay a few weeks and why not to work there.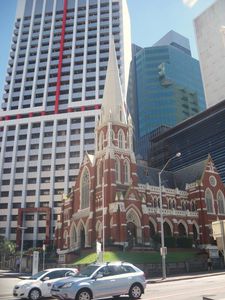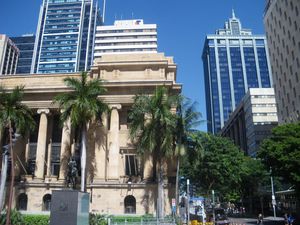 We enjoyed the 24 hours which we had to make the tourists.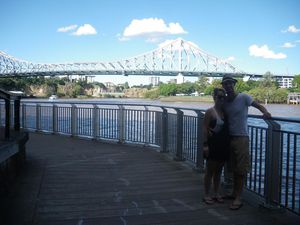 We strolled in the streets, along the river, walked in Botanic Garden and even we went to the City Hall, whose my Lonely Planet praised the merits for its unobstructed view on the city center; and the whole was to be free. Arrived at the City Hall, we realised that this one was closed for restoration… for 3 years! Yes, I acknowledge my guide is perhaps a little old (2005), therefore some of information (even much) are erroneous.
Wednesday March 23 – Left from Brisbane at 2pm, arrived to Hervey Bay at 8.45pm. Yes it's long almost 7 hours of bus. Once in Hervey Bay, we called the hotel where we supposed to sleep the night, so that someone pick us up at the Bus Transit Center, which is at 15min in the car of from the town. The guy who answered the phone, informed us that there wasn't any more shuttle at that time and that the reception closed at 9pm anyway. We "slightly" panicked… in fact, I was totally hysterical! We had booked the hotel by an travel agency which also booked our bus travel, so they knew pertinently that we arrived at 8.45pm and it was their job to ensure there would be someone to accommodate us… Finally Ben found a cab and we arrived at the hotel while running. The girl at the reception, told us it had sent a shuttle to pick us up and she was waiting for us before closing the reception… Great! That was a good start for our journey! It turned out that the guy who answered the phone is the manager of the hotel, a fucking dickhead, who knows about nothing and who instead of requiring of the receptionist, clearly sent us packing. The girl was really sorry for us and she offered to us a beer in compensation. After several beers and a vodka shot, I finished relaxing myself. It was not the moment to waste our holidays because of a jerk!
The next morning, departure at 8am with 9 other people and two 4WD, direction Fraser Island.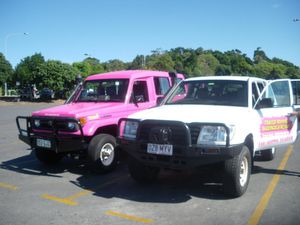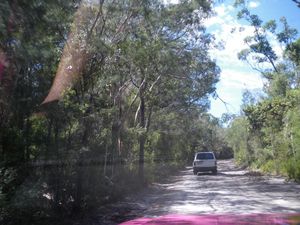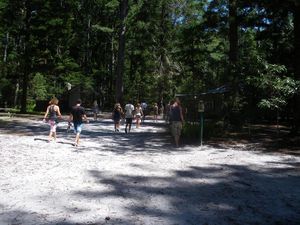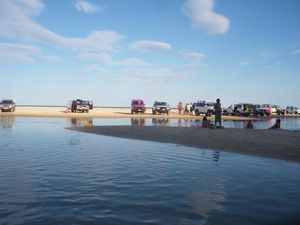 Ben and I were over-excited, but apparently we were the only ones. We were with 6 fucking German people, who didn't stop speaking in German all the time. No possible English discussion. I learned in vain German at school during 9 years, I am still unable to speak or understand it; and anyway I am in Australia to speak English, no German!!! And as for the 3 others people: 2 English girls and 1 Israeli guy, honestly they were nice but rather boring!
The 1st evening, we slept in the forest and we could observe the wildlife of Fraser Island very closely: snake long of 2 meters,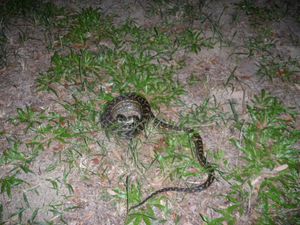 huge spiders (just think about it, I become hysterical),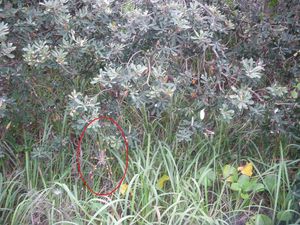 huge lizards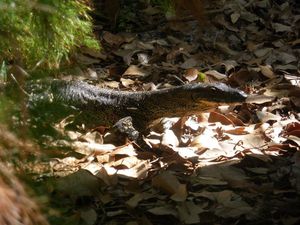 and huge toads, which jumped just on my feet, I let out a scream worthy of Halloween (I knew well that I had missed my vocation: horror movie actress!).
The 2nd night, we camped on the beach,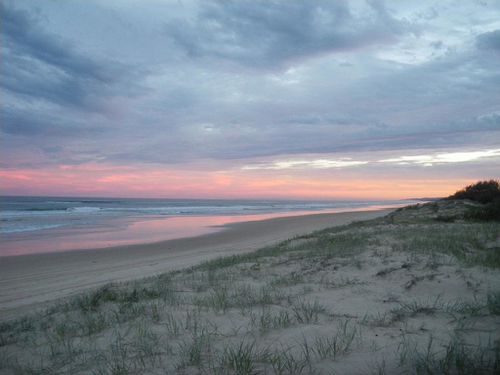 that time it is the dingos which visited us. There had everywhere around our bivouac.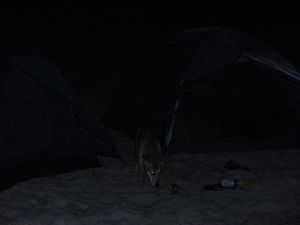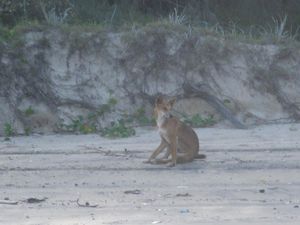 And as much dingo for an adult, is more or less inoffensive, as much when they are several, they can become dangerous and aggressive.
The 3 days and 2 nights were odd. Fraser Island is so beautiful, completely wild (there is absolutely no asphalt road)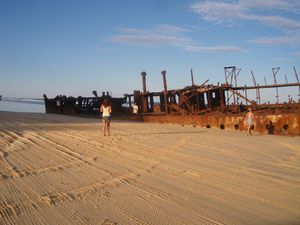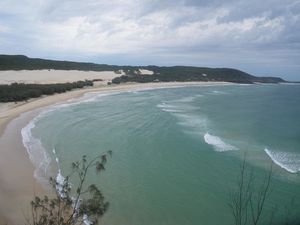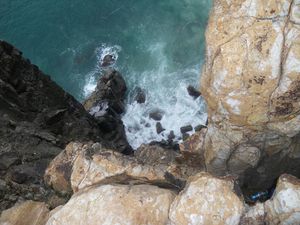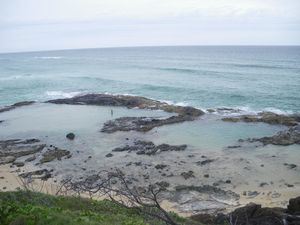 and drive on the beach to 80km/h, it's really cool!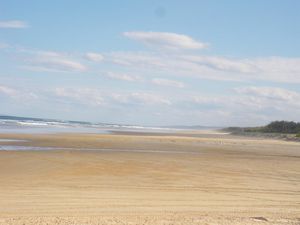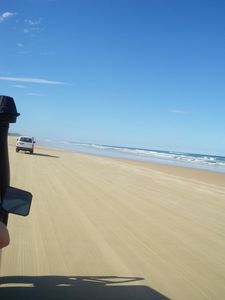 Moreover the weather was so nice every day.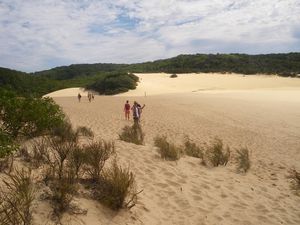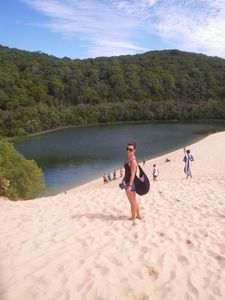 But the team was so much boring (I wanted to slap everyone), that we were a little disappointed.
Sunday March 27 - Ben supposed to do his Skydive above Hervey Bay. It was too impatient, he didn't stop talking about that for maybe 2 months. The D-day, the skydive was cancelled because of the bad weather, indeed it was raining all the day. Ben was disgusted! The very evening, we took the coach to Airlie Beach.
Monday March 28, after 12 hours of bus, we arrived at Airlie Beach in a driving rain. It's hardly if we could see the sea, so much the clouds were low and the rain was torrential. With a weather like that, we were sure the boat trip in Whitsunday Islands would be cancelled. Well not at all! The travel agency which organised the trip, ensure us that the weather would be better the following day. I say "fucking liar!". We took on board at the beginning of afternoon on the Tongarra catamaran.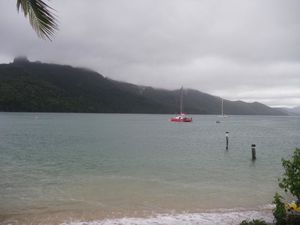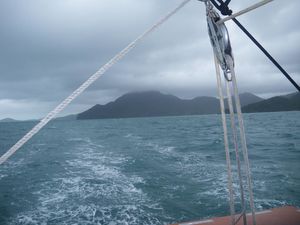 We were already totally drenched and all our stuff too.
The trip was to last 2 days and 2 nights. Normally the nights we had to sleep on the deck of the boat in the open and watch the moon and the Milky Way… Instead of that, the 1st evening, the boat landed us in an island and by a night without moon and in the rain (always and still!), we ventured into the tropical forest, barefoot in the water, on the track which was to lead us to the hotel. I confess that I was absolutely scared. There was to be thousands of spiders everywhere around us, and my fear was to step on a snake, which would have calmed down in the middle of the path. At the end all of us arrived healthy and safe, and especially soaked. We drank all night long to compensate for the lack of sun, we got to know the rest of the team: 21 persons, German, English, Danish, Spanish, French, Swedish and Swiss, all of us in same the hassle!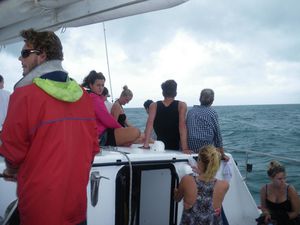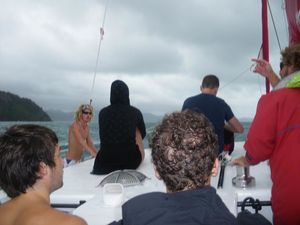 The following day, we set out again on the boat. We tried to reach a beach, which more in the open sea and thus was more exposed to the wind and the sea currents. That did move badly on the boat, and the difficulty is that inside we are sick and that outside we caught the rain, the wind and the waves… But we didn't hesitate a long time: outside we feel thousand times better, even if we look like shit!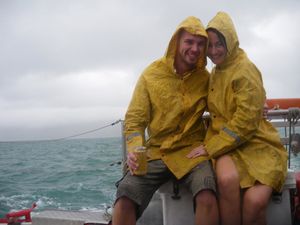 After 1 hour to sail against the waves, small briefing: either we continued to get this beach, but it was 3 hours more under same the conditions, or we turned back and we tried a spot of diving. There was not hesitation : u-turn! The snorkelling was definitively less good than on the west coast, the sea was more or less unclear and there was not a great fish and corals diversity. But it was better than to stay on the boat.
As you understood, nice weather was not present, but the atmosphere on the boat was awesome! As there was nothing to do on the boat, we started to drink at 10 or 11am, just after the breakfast. I know, it's not very healthy, but it was necessary to keep ourselves busy, and we had a lot of fun during 2 days!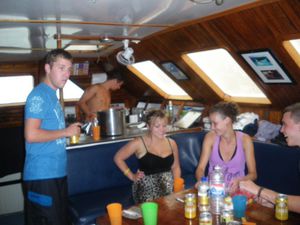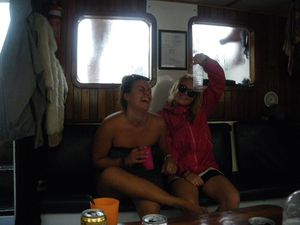 We spent the 2nd night on the boat, the crew (just 2 persons, is not necessary to ignite!) had arranged a kind of shelter on the deck, thus we could spend our night outside more or less protected of the wind and the rain. The evening was animated by various drinking games and huge giggles. In same time, we were drinking for more 10 hours not-stop so we were rather in a good state of mind. And for me the drinking games were rather sucked and boring, and actually not at all, when the good plays are known! We finished the party in small group and we even slept on the bridge.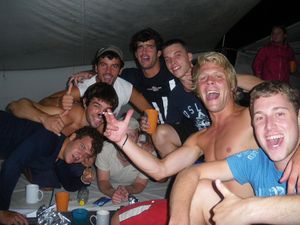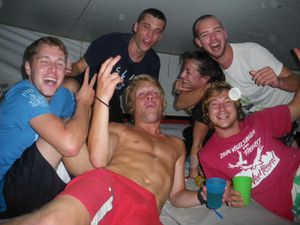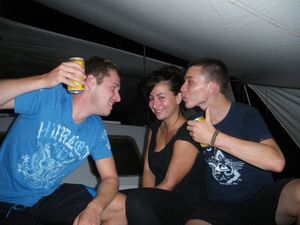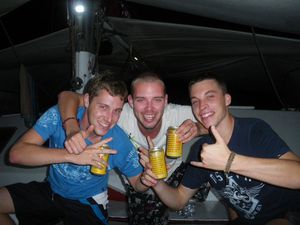 I acknowledge the morning after we were a little wet, but it was 1000 times better than to sleep inside the boat: imagine about fifteen people sleeping in a confined space, with everywhere a horrible smell of moisture and a crazy moistness…
Wednesday March 30, come back to Airlie Beach at the beginning of afternoon always under the rain. And there, we started to panic! All roads around Airlie Beach were closed because of the bad weather. Yes, in Australia, it's like that, when it rains, the roads which are absolutely not designed to receive as much water, are transformed literally into river, and thus become impracticable. Ben had to travel by a bus to Mackay (the nearest airport) 3 days later, in order to go to Melbourne and take his plane to return to England the next Monday. Thus he couldn't be in Mackay for the Sunday morning, he missed his plane to London and would have to buy another plane ticket, almost $1000 the ticket! Fortunately the 2 Swiss guys met on the boat, travelled in a van and wanted to try the road the next morning; they proposed to us to drop us off in Mackay. By chance, it stopped raining during the night and the morning we could leave Airlie Beach, just before the rain starts again. We didn't really know how, but as Mum would say, "we had the as bordered of noodles" (I don't know if it means something in English, but it the literal translation) and we could pass the roadblocks, whereas the セ of the vehicles remained blocked. We thus crossed several "rivers",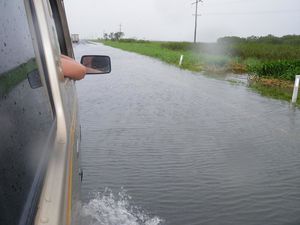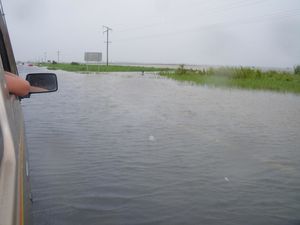 at one moment there was a small fear to have kill the engine, but in 3 hours we were in Mackay. Phew!
Then there were 3 days and 3 nights rather boring, because Mackay sucks (almost like Port Hedland on West Coast) and we spent our last 3 days with Ben in a shity hostel, instead of getting tanned and of lolling in the sun on beach of the Airlie Beach, as it was planned at the beginning. It was also for me, 3 days of interrogation about what I wanted to do when Ben would be gone:
1) Go to Cairns, as initially envisaged, but considering the shit weather forecasted for the week after, I could do nothing, except stay in my hostel room. THAT SUCKS!
2) Go down in Brisbane and visit the Gold Coast, where the sun was shining, but in this case, never I would go to Cairns, because once in Sydney (my plane to Paris leaves from Sydney), and I really don't want to pay a return ticket to Cairns, just for… Cairns! NO WAY
3) My last possibility was to find a job around Mackay or Cairns, and wait for the dry season, then enjoy Cairns and the great reef barrier under the sun, and after keep travelling on the East Coast as my basic plan : GOOD PLAN
Saturday April 2, I decide to seek a job on Gumtree.com. I find a plan in Lakeland, a shit hole in 3 hours from the north of Cairns. I call, the job is still available. Hop, I book my coach to Cairns, for the next morning and my night in a hostel for the evening. Here I am! In 30 minutes, I found a job, that I begin 2 days afterwards on 1000kms from there. I acknowledge, I was rather efficient on this blow!
Here we are, my "holidays" on the east coast with my lover are nearly finished. One more night to spend together and the next morning, the goodbye will be short, because my bus is at 7.20am and his plane at 9.00am. I have a lump in my throat to know Ben is leaving and I wouldn't see him again before 2 month. I try to remember what we had lived together for 5 month: our meeting in Broome, our life in Melbourne, our holidays on Sunshine Coast (in the rain), and smile comes back in my face. No, I regret nothing, everything was perfect!