4 mai 2011
3
04
/

05
/

mai
/

2011
07:06
English Version
Monday April 4, departure from Cairns (where I stayed hardly a night) at 6:30am, with a mini bus and 4 people. 3 hours later, I was in Lakeland. My first thought was: "Oh my god, what I'm doing there? What big mistake I did? ".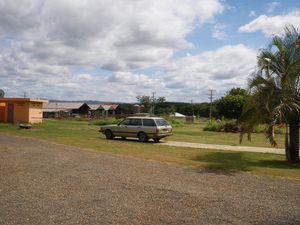 This is the Lakeland's centre and the main street.
It's simple, Lakeland it's 80 inhabitants, a shop, a caravan park and a motel/pub. It's in this last one I live and work.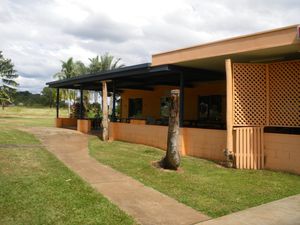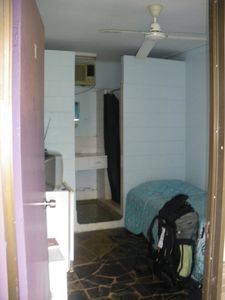 The pub with its "beautiful" terrace It's my tiny bedroom
When I arrived, there were already 2 other girls: Swedish and Norwegian. 5 days after they had already left.I thus became in less one week the n°1 girl of the pub. Cool!
There are a chief cook (Peter) for the evening and a gardener (Steve). And the rest of the personnel are girls. Housekeeping, barmaid and kitchen assistant, here are our jobs. Here everyone is alcoholic and starts to drink before 11am beers and sometimes orange vodka or rum and Coke...
Several months ago, Tonton Jean-Marc asked me, to describe aussie people. Until now it was for me impossible, because they are almost the same people in Australia than in France, except here the barbecue is the traditional meal for Christmas and the beer is for Australia what the vodka is for Russia: an institution! But since I am in Lakeland, I could discover real Australian from the bush! For example, there is Pedro, little old woman with his dog, which comes every day to the bar towards 3 or 4pm, sits down every time at the same place, does not say almost anything and looks at the TV. He doesn't need to order anything, because he drinks exactly the same thing everyday: xxxx Gold Can. When he arrives at the bar, I take his beer can, he put his money on the bar, I put his beer in his stubby cooler (a brilliant invention of Australian people: your beer is still cold, does matter the outside heat), and take a note on the bar; when he finishes his beer, he put the empty beer out of the stubby cooler, thus I know he needs another beer. And so on during several hours without a word.
There is also Dundy, a old man pretty perverse, he drinks xxxx Bitter can the morning and rum and Coke the afternoon. He asks me same the questions continuously: "What's my name? Where do I come from? and What kind of job did I do in my country?", but he never remembers the answers; he remembers only one thing, he likes watching my chest and my legs!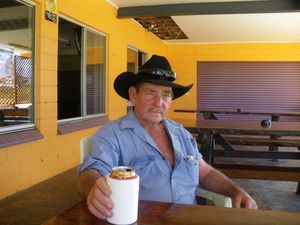 Dundy with his xxxx Bitter can at 11am
All these people drink all times the same thing, as soon as I see arriving one of the usual customers, I take directly his drink. Lakeland goes by habits. Each one always orders the same meal, and same drink. After one week, I had already seen all the regular customers and knew their tastes.
Two new girls arrived: Jodie, an young English girl so cute, and Laura a really nice Estonian girl, who talks a lot and a lot.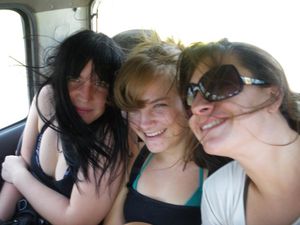 The 3 girls leaving to Cooktown
For one week, we live in a house at 3 minutes on foot from the bar, it's so much better than our tiny rooms of 6m2 in the hotel.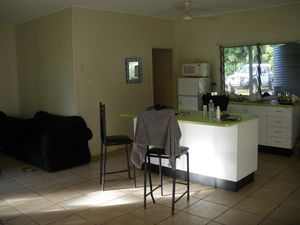 Our house during my last 2 weeks in lakeland
There are also 3 young workers who stay at the hotel for 1month. Andy (English), Joey (German) and Luke (Australian), and fortunately they are here, because we laugh so much with them. For Good Friday, the bar was closed, so they gave us a lift to Cooktown, the town of more than 1000 inhabitants, nearest to Lakeland (just 1 hour!!!). The city is not really exciting, but the view on the sea is splendid.

And we spent all the afternoon on the beach, almost nobody, just us, the sun, the peaceful environment and beers of course!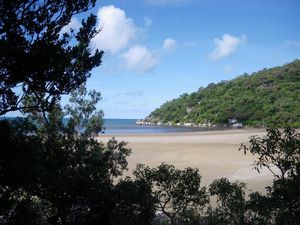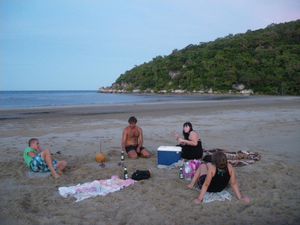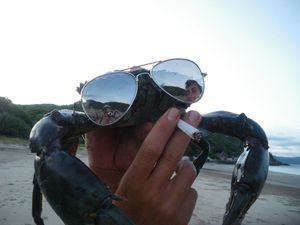 Honestly, I think I appreciate so much more Lakeland than Melbourne. I know it seems weird, but I didn't come in Australia to be in a city like Paris, but to live something different, just as I loved being in Alice Spring, Broome and my road trip on West Coast. In Lakeland, there is something still human, contrary to the big cities, here everybody knows everybody, people are simple, they live and enjoy the simple life's pleasures: beers and people with whom to speak… That's it, it's not more complicated. And if it was the happiness' secret?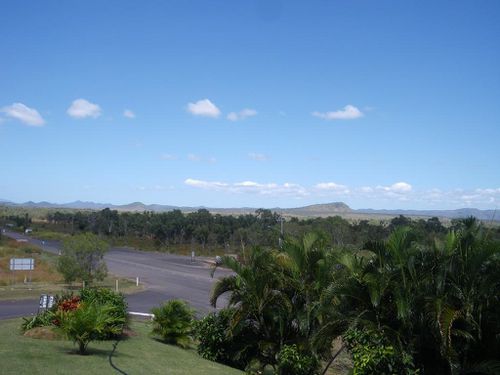 This is the Lakeland area...